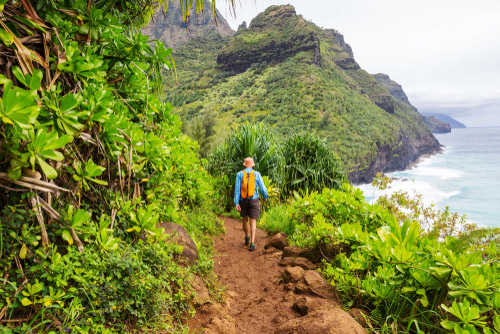 At North Shore Cab Company LLC, we pride ourselves on our friendly, knowledgeable, service-oriented tour guides and our clean, comfortable, air-conditioned vehicles.
We appreciate just how special your visit to the Na Pali coast is, so simplify your ride to and from Ke'e Beach and Na Pali Coast Hiking Trail by riding with us! We are available to take you as early as you would like and pick you up at your desired time. All trips are pre-arranged and prepaid for your ease of mind during the trip. Give us a call, text or email when you're ready to plan your trip to Kilauea, Kauai, Kalihiwai, Princeville, or Kauai County, HI! You'll be glad you chose us! Mahalo!
Park & Ride
Kilauea to Ke'e Beach: $185 Round Trip for 1-6 passengers
Free overnight parking
Early birds welcome
Reservations only
Special requests? Just ask!
Free parking and luggage storage with roundtrip transportation
Advanced reservation required
*This service is limited and might become unavailable from Dec. 15 2022 to Jan. 10 2023
Early morning rides to the trailhead must be reserved before 10pm prior day.
Aloha and Mahalo!
We welcome early bird travels! Reserve your traveling today!
North Shore Cab Company LLC  is ready and waiting to serve all your transportation needs.
Luaus, Activities, Golf, Dining, or whatever you like – we are just a phone call away!
808-639-7829 Or if you prefer, please fill out the form below.
Please contact us and send us the details for your reservation. We will get back to you within 24 hours. We never add a fee for using your credit card.